Many people wonder what is elearning, what its main features are and what it can bring to teaching and learning compared to traditionally used methods.
To be able to explain clearly what is e-learning, it is convenient to start from the beginning, answering precisely that question.
What is elearning and how it works
Although there are many definitions, in a nutshell it is a type of training that takes place over the internet.
What is an e-learning course?
Simply put, an e-learning course is content that you upload to an educational platform so that learners can be trained.
What is the teaching-learning process like for students?
Teaching is made possible through this elearning platform, which students access via a computer, tablet or mobile phone.
With this learning model, the learner is at the centre and everything revolves around the learner.
As a result, each person can choose what knowledge he or she wishes to acquire, when and how, something that until the advent of distance learning had been unfeasible.
As we will see below, it is true that in this modality the physical student-teacher relationship disappears, but current platforms offer solutions to ensure communication between all members of the educational community.
What are the e-learning platforms?
You already know what is elearning. Let's clear up any possible doubts about the platforms.
First of all, e-learning platforms are the means by which we make e-learning possible. That is to say, the place where we generate or upload our courses and where the students enrolled in them will enter to be trained.
Besides, an e-learning platform is like a social network where users interact.
On the one hand, teachers guide learners through activities and content. On the other hand, learners study in real time or asynchronously and participate in study and opinion spaces in discussion forums or chats.
In reality, everything will depend on the type of platform and the functionalities it offers. It is therefore advisable to be clear about certain aspects before choosing an e-learning platform.
Types of elearning platforms
At this point, we will explain the different types so that you can freely choose the one that best suits your needs.
By the way, you will find free software and commercial or proprietary ones (in general, they all revolve around these two, regardless of the number of added functions or tools they offer).
Free and open source software platforms
Free and open source software is used to provide open training, free of charge.
They are mostly developed by educational institutions that want to offer a range of courses.
Many are open source, which requires programming skills to manipulate the software.
However, we can find some interesting ones that are very well equipped.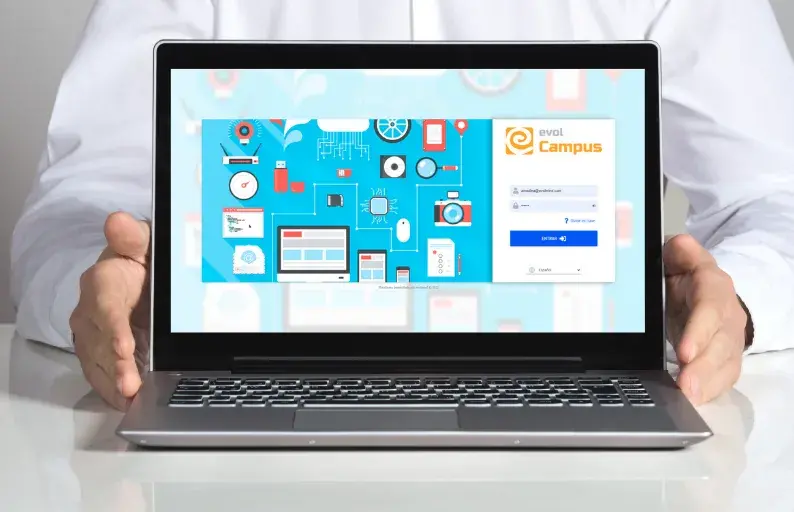 On the other hand, the commercial ones are paid. Therefore, in order to use them, it will be necessary to pay a certain amount to the company, either to the developer or to the distributor.
Even so, these platforms are usually much more elaborated and allow us to get to know their tools and possibilities in advance. This is essential to find out if they are suitable for a training project.
Elearning plataform Requirements
The functionalities can be endless, but there are a number of features that an e-learning platform must have in order to perform optimally and to ensure that the user experience does not suffer.
Hosting and reproducing content
In this sense, the platform must be able to host all types of content, regardless of who created it and the methods used.
It should even be possible to import content from another platform.
Related to this, it must also be able to be reused in other courses and contexts, and be editable in order to keep the information up to date.º
Recording the behaviour of trainees
At the same time, it has to collect information on how the learner interacts with the content and adapt its behaviour to the learner's needs.
For example, if a learner interrupts a lecture, the system will take him/her back to where he/she last left off, as soon as he/she picks up the lecture.
At the same time, it is necessary to offer tools to control the movement and evolution of the learners.
In other words, it is very important for the tutor or instructor to know whether the students are accessing the content or not. In this way, the teacher will be able to ensure that no student misses any lesson or essential document.
Needless to say, both students and tutors should find the campus available at any time of the day. Indeed, this is one of the main advantages of distance learning.
For this reason, it will be a priority for students to be able to manage their schedules and the time they want to invest in training.
Undoubtedly, this is the most basic feature of this modality.
Remain in constant evolution
Obviously, the platform has to be prepared for all kinds of developments, preventing content or accessibility from becoming obsolete.
For this reason, it must ensure regular and secure updates.
It also needs to be scalable and make it feasible to grow in terms of content, courses and learners who can access it.
In short, when choosing one platform or another, you should consider your needs, but it is essential that you recognise the minimum requirements.
Otherwise, you may have problems with the courses' development.
Elearning Tools that enhance training
Critics of e-learning argue that, at a distance, the essential communicative factor in teaching is lost.
While it is true that there is nothing like 'face-to-face' communication, there are many elearning tools that make this closeness between tutor and learner possible.
These are essential:
This is an asynchronous communication tool.
Some platforms include email messaging within the system itself between enrolled students.
As you know, chat is the everyday elearning tool we use for real-time communication.
On the educational platform, too!
At the same time, localise a system that integrates the best video conferencing providers to deliver webinars, tutorials and create extraordinary live and recorded experiences. (Zoom meetings & Webinars, Google Meet…).
Likewise, forums are perfect for organising assignments or group discussions in which students and teachers of each course can participate.
As a general rule, this tool is integrated into all platforms on the market, and is essential for issuing communications to all students at once (key dates, evaluations, reminders, etc.).
Indeed, all these tools are great alternatives to direct communication, as well as common, so almost everyone knows how to use them. Therefore, they are perfect for maintaining effective and functional contact by doing e-learning.
Advantages of e-learning for students over face-to-face
As we have been announcing, distance learning brings great benefits compared to the traditional teaching model.
These are just a few of them:
Firstly, with the face-to-face education model, it is necessary to travel to the school, academy or university.
Another advantage of elearning is that it makes it possible for anyone to take courses whenever they want and wherever they are in the world.
Face-to-face classes are taught at a specific timetable.
Thanks to e-learning, students can enrol in courses where they can study at their own pace and thus combine their studies with other tasks, such as work or leisure activities. You see there are a lot of advantages of elearning.
A large percentage of distance learning users are professionals who demand tailor-made training.
For this reason, the platform has to provide options for updating and modifying the contents in order to adjust them to the educational needs of teachers and students.
We are moving from a passive learning model, in which the learner only listens and receives information, to an active one in which the learner collaborates in the construction of content.
Moreover, e-learning motivates and favours the retention of information, while inviting students to investigate and expand their knowledge.
A large part of a company's training budget is spent on transport and accommodation.
With e-learning it is possible to save this amount in the first place.
E-learning resources to create an infinite amount of content
The possibilities offered by many e-learning platforms for creating and sharing content are numerous.
In particular, by making use of new technologies, they allow the uploading of all kinds of multimedia files and the activation of chats or internal discussion forums to share conclusions and enrich the learners' experience.
The most common resources offered by an e-learning platform are the following:
Usually in PDF. A classic in all.
We talk about infographics, podcasts, videos, images and others to complement the information.
Precisely those in which the tutor or instructor can detail the indispensable requirements and instructions for completion.
For example, setting a deadline for the completion of an assignment. Students will know the deadline date, after which they will not be able to make any changes.
In short, it is a way for the teacher to check that all students complete the activity within the estimated time frame. And, in turn, to evaluate the exercise in question from the same publication.
Specifically, tests where the tutor has the option to set an expiry date.
Specifically, the teacher could announce that the test will be open on Monday, between 16:00 and 18:00. Students will have to log on to the platform at that time and take the test. After 18:00 it will not be possible to access the test.
A good platform has to have all these resources in order to optimise the courses and the learners' experience.
In addition, it must be clear and intuitive to facilitate learning and allow viewing from any device.
And, of course, it must contain a good security protocol that guarantees data protection, as well as systems for monitoring and evaluating students.
You already know what is elearning, but, who can take advantage of it? Companies, training centres, non-profit organisations, professional bodies and associations… E-learning is suitable for everyone!
Are you a company and do you need an e-learning platform for the internal training of your employees, customers or distributors?
Corporate e-learning offers several advantages compared to traditional training, such as savings on transport, subsistence and accommodation for employees.
More pros of elearning: it also makes it possible to train many more people simultaneously, as courses are not limited to small groups.
And, as we have already mentioned, it offers students the alternative of being able to consult the material at any time and as many times as they wish.
Then you already know these advantages of e-learning- You can use e-learning to deliver 100% online training or to complement face-to-face classes and thus offer more flexibility.
On the other hand, a benefit of elearning is that it allows you to expand your business outside your location.
Are you a consultancy interested in offering specialised courses to companies?
Find new opportunities and an interesting attraction by doing e-learning.
Nowadays, companies are increasingly demanding e-learning.
So why not give your client a type of coverage that, on top of that, helps them to reduce costs?
Elearning pros and challenges in the future
The expansion of e-learning has come in recent years, especially in the last decade, when technology has opted for new communication and learning tools that improve the user experience and adapt more and more to the user, personalising almost every case.
With the COVID-19 pandemic, both educational institutions and companies were forced to incorporate virtual platforms and classrooms to continue their normal operations.
This event certainly revolutionised the educational landscape and the future of the e-learning industry, which is growing at 20% per year and predicts the same trend for the coming years.
Now you can understand what is elearning, its types, examples, benefits and purpose. What are you waiting for to start and take advantage of the benefits of e-learning?